Posts for tag: Cosmetic Dentistry
By Kerr Dental Associates, PC
October 28, 2019
Whether you just want whiter teeth or would like a complete smile makeover, there are a number of cosmetic dentistry services available
for every dental problem and situation. After a comprehensive dental exam and evaluation, the dentists at our Plymouth, MA, office will recommend the cosmetic dental procedure that is right for you.
Cosmetic Dentistry Services in Plymouth, MA
Some cosmetic procedures are purely aesthetic, meaning their primary purpose is to improve your smile's appearance. Some treatments like crowns and dental implants are both cosmetic and restorative, meaning they improve the appearance as well as the function of damaged or missing teeth.
There are a number of cosmetic dental procedures available depending on your lifestyle and oral health needs:
Professional teeth whitening
Porcelain veneers
Cosmetic bonding
Tooth-colored fillings
Crowns and bridgework
Dental implants
Choosing a cosmetic dentistry procedure depends on a number of factors such as your goals for your smile and the nature of the problem that you need to correct, as well as budget, lifestyle, and whether you have underlying oral health issues that also need to be addressed.
For example, dental implants are a great long term solution for tooth loss and are the closest match to a natural tooth, but they're not right for everyone. If you have health issues or are not a good candidate for implants, dentures are great alternatives to replace missing teeth and get your smile back.
In some situations, a professional teeth whitening treatment is all that's needed to transform a dull, discolored smile. Studies have shown that whitening your teeth can make you look younger and improve confidence and self-esteem. For general cosmetic improvements, porcelain veneers are a great option to change the size, shape, and color of damaged or unattractive teeth. Whatever your goals are, there is a cosmetic dentistry procedure that is right for you.
Find a Dentist in Plymouth, MA
You don't have to settle for a damaged or imperfect smile. To learn more about the cosmetic dentistry services we offer, contact Kerr Dental today by calling (508) 747-5400 to schedule an appointment with one of our dentists.
By Kerr Dental Associates, PC
June 09, 2019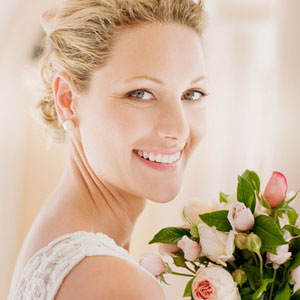 People improve their smiles for a lot of reasons: to better their career prospects, to put some juice in their social lives or just to do something special for themselves. But you may have an even stronger reason: a once-in-a-lifetime event—maybe your wedding day—is coming up soon.
You have several options for transforming your smile for the big day—and some are even quite economical. Here are 4 affordable ways to make your smile beautiful for that forever moment.
Cleanings. While dental cleanings should already be part of your regular dental care, scheduling one right before a big event can do wonders for your smile. Not only can your hygienist remove any lingering dull and dingy plaque and tartar, but they can polish your teeth for a brighter shine. Remember, though: dental cleanings support your own hygiene efforts, they don't replace them. Your own daily practice of brushing and flossing will also help you maintain a beautiful smile.
Teeth Whitening. You can also get an extra boost of brightness with a tooth whitening procedure. Using a professional bleaching solution and other techniques, your dentist can lighten your smile to your tastes, from a more natural hue to dazzling white. The whitening effect, though, is temporary, so plan to see your dentist no more than a few weeks before your big day.
Bonding. Perhaps a tiny chip is all that stands between you and a knockout smile. Your dentist may be able to repair that and other minor defects by bonding tooth-colored materials to the chip site. These composite resin materials have the shine of enamel and can be color-blended to match your tooth's natural shade. Composite resins are also fairly rugged, although you should avoid biting down on hard foods or objects.
Veneers. Although more expensive than the previous options mentioned, veneers are still affordable compared to crowns or bridgework. Usually made of thin layers of dental porcelain, dentists bond veneers to the front of teeth to mask mild to moderate problems like heavy staining, disfiguration and minor gaps. But because veneers are custom-fabricated by a dental lab, you'll need to plan them with your dentist at least six months before your event. The resulting change to your smile, though, may well be worth the wait.
If you would like more information on transforming your smile for a special event, please contact us or schedule an appointment for a consultation. You can also learn more about this topic by reading the Dear Doctor magazine article "Planning Your Wedding Day Smile."
By Kerr Dental Associates, PC
November 30, 2018
Considering dental implants? One of the most revolutionary developments in modern dentistry is the development of dental implants. Implants are small anchors that are inserted into the jawbone to replace missing teeth. Implants have made such a difference in the lives of many patients. Kerr Dental, which is located in Plymouth, MA, offers dental implants to its patients.
What are the effects of tooth loss?

One or more missing teeth can have many negative effects on your oral health including shifting of teeth and changes in the jaw joint. Missing teeth can change the shape of your face, causing you to look prematurely aged. After you lose a tooth, your jawbone will also begin to shrink from lack of stimulation. In addition, missing teeth can keep you from enjoying the foods you love. It's difficult to chew properly when you have missing teeth.

What are dental implants?

Dental implants are small posts made of titanium that are inserted into the jawbone to take the place of your missing tooth roots. After the jawbone has bonded to the dental implants, replacement teeth are secured to the top of the implants. Dental implants are used in the upper and lower jaws. They're made of materials that are well-suited to the human body.

Why do people choose implants?

The decision to replace your missing teeth with implants is an excellent investment in your appearance and the quality of your life. An implant is the closest thing to a real tooth. Dental implants will make your smile whole again. They will help restore your ability to chew food and improve your clarity of speech.

Will I need bone grafting?

You may require a bone graft if your bone is too thin and unable to support a dental implant. The bone graft materials can come from a variety of sources—sometimes it comes from the patient's body. Synthetic bone graft materials and laboratory-processed bone from an animal or human donor can also be used.
How do I care for dental implants?

Good dental hygiene must take place before, during, and after the placement of implants to keep them healthy. Dental implants are like real teeth and will require regular dental visits and conscientious at-home oral care. In order to keep your new implants plaque-free, brushing and flossing still apply.

Want a better life? Start with your smile. Say yes to dental implants! Call Kerr Dental at 508-747-5400 right now to schedule a dental consultation in Plymouth, MA. Dental implants have helped millions of people from all over the world transform their smiles, boosting their self-confidence and changing their lives. And they can do the same for you!